As the Russian-Ukrainian conflict enters its 120th day, the leaders of the European Union are set to formally put Ukraine on the long road to EU membership at a summit in Brussels today, Thursday and tomorrow, by granting it
Although this path may take many years, according to more than one European official previously confirmed, Ukrainian President Volodymyr Zelensky is optimistic.
Out of the Darkness
Yesterday, Wednesday, he praised the offer expected from the EU countries, Regarding the status of the candidate for his country, exhausted from the battles against the Russian forces in the Donbass, in the east of the country. "I believe that all 27 EU countries will support our status as a candidate," he said during a speech to students in Toronto via a video link. The expected decision may be more like "out of darkness into light."
The upcoming European Union decision may be like stepping out of the darkness into the light!
A symbolic step
This step is largely symbolic, but it will nonetheless help raise the morale of Ukrainians at a very difficult time in the four-month conflict that has killed thousands and displaced Millions of people have turned villages and cities into ruins, according to Reuters.
This conflict also had a huge impact on the global economy and European security arrangements, which led to high gas prices. and oil and food and pushed the European Union to reduce its heavy dependence on Russian energy. He also urged Finland and Sweden to seek NATO membership.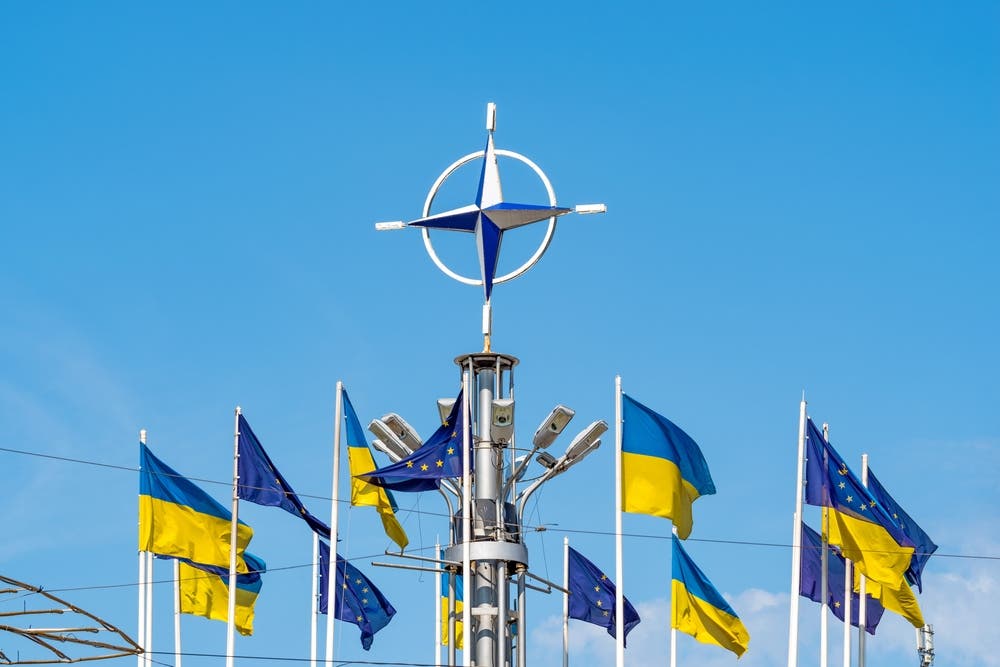 Ukrainian flags with the European Union flag and the NATO emblem (Shutterstock)
It is noteworthy that many diplomats were They have repeatedly stressed that the step to join the European Union may take Ukraine a decade or more to meet the criteria and conditions for such accession, including the fight against corruption, the issue of human rights, minorities, democracy, and others.
But despite that Many European leaders saw that the Ukrainians were fighting for European values ​​of democracy and that the bloc should make a gesture recognizing their sacrifices. More than once from that step, and warned of the danger of the expansion of Western alliances, especially the North Atlantic Treaty Organization, which it considers a spearhead against them. What do you see as a red line? for its national and strategic security.