The Houthi militia, Iran's arm in Yemen, was accused of the murder of journalist Saber Al-Haidari, on Wednesday evening, in the city of Aden, where the militia follows the same approach by liquidating its opponents, and is pursuing Everyone who tries to convey the voices of Yemenis in their areas of control to the world through abuse and assassinations.
This is the third crime targeting media professionals in the same way, within the Houthi approach to killing, arresting and displacing media professionals, and at the beginning of last November, it was exposed Journalist Mahmoud al-Atmi for a similar crime that resulted in the killing of his media wife, Rasha al-Harazi, and her fetus, and before that, the assassination of journalist Ziad al-Sharabi, by blowing up a motorcycle in Mocha, early 2019, and wounding journalist Faisal al-Dhahabani.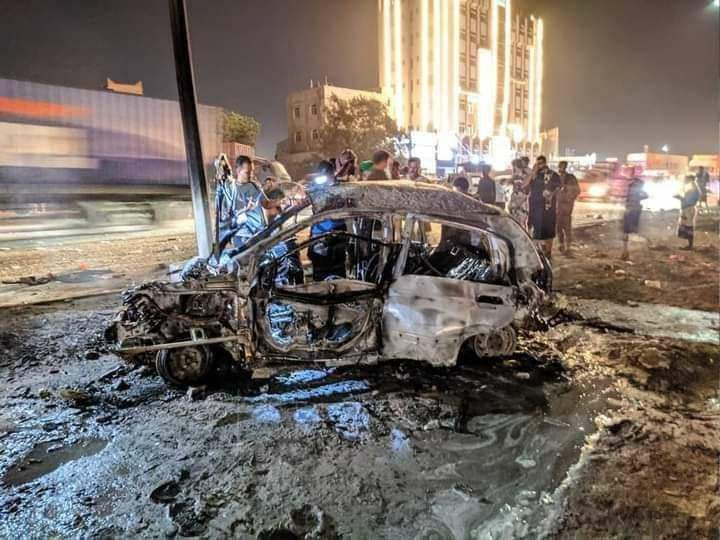 from the scene of the accident
Journalists considered the assassination of Al-Haidari in Aden a heinous and condemned crime, bearing all the hallmarks of the crime and treachery machine, which is the Houthi movement.
The Minister of Information explained The Yemeni, Muammar Al-Eryani, that the assassination of the journalist Al-Haidari, who left Sanaa in 2017, after being harassed by the Houthi militia, which comes after months of targeting a Athal of journalist Al-Atmi and his wife, journalist Al-Harazi, confirms that journalists have become a target for the militia.
Al-Eryani pointed out that the Houthi militia's systematic targeting of journalists and correspondents of Arab and foreign media outlets aims to spread terror in their hearts and prevent them from fulfilling their message. From the liberated areas.
And demanded a clear international position regarding this heinous crime and all the crimes and violations committed by the Houthi militia against journalists, including killing, kidnapping, enforced disappearance, exile, displacement and looting of money and property.
Yemeni President Rashad Al-Alimi also directed urgent investigations into the circumstances of the treacherous bombing that killed the journalist Al-Haidari, who said that it "aims to silence the truth, spread misinformation, and the myth that violent and terrorist groups live on, especially Houthi militia."
Journalist Al-Atmi – who was previously targeted by the Houthi militia in the capital, Aden in the same way, and resulted in the death of his wife and her fetus and severe injury – in a tweet: "Al-Houthi is chasing everyone who tries to To convey the voices of Yemenis in the areas of his control to the world."
He added: "I do not know how you will face This is Saber's family, life after him, and what future awaits his children, but I know that heaven's justice will befall the cowardly killers, and that day will come soon."