Demonstrations in South Asian country Sri Lanka in recent weeks after economic difficulties, change of government And after the economic problems, there are many concerns in Pakistan regarding the economic difficulties.
Economists where Sri Lanka economic As they stand on the brink of bankruptcy, they are also sounding the alarm bells for the Pakistani economy.
Former Finance Minister of Pakistan and well known expert Economist Salman Shah says that delay in receiving money from the International Monetary Fund (IMF) would not be a good thing.
Talking to Independent Urdu, he said He said: "Although the economic realities of Pakistan and Sri Lanka are different, the danger is very close to us, and if the money from the IMF is not received soon, things could go awry."
He said that until the signing of the agreement with the IMF, the Pakistani economy will be in danger.
The deteriorating economic situation in Sri Lanka. Has also worried Pakistanis.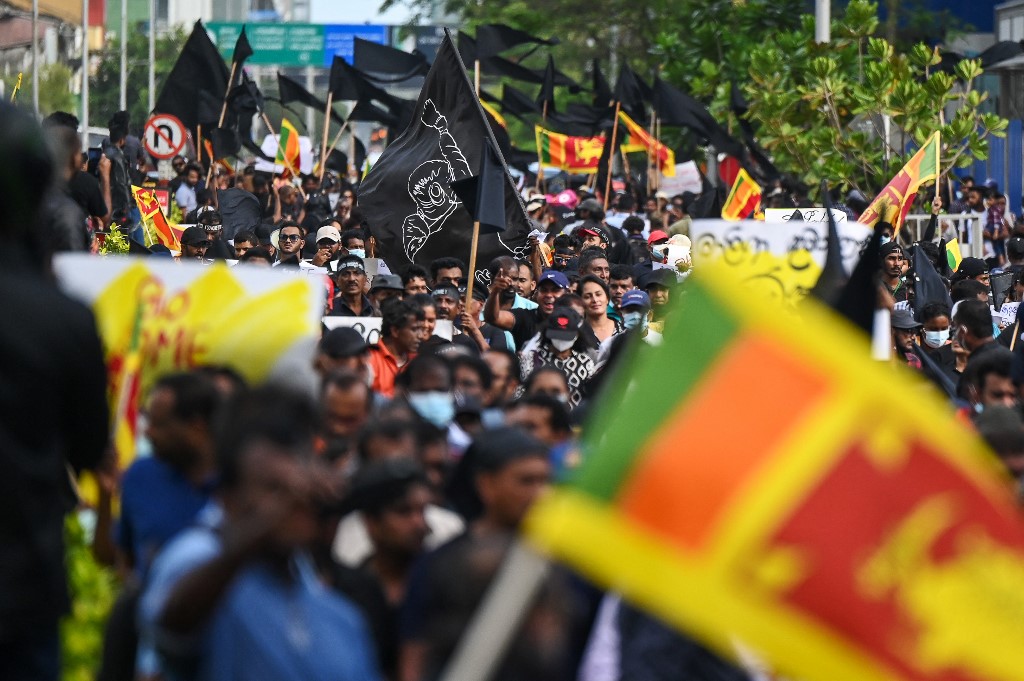 In this photo from May 28, 2022, Sri Lankans take part in a protest on the 50th day of anti-government protests (AFP)
Muneeb Sheikh, a 45-year-old resident of Islamabad, said that the current The situation is adding to his worries about Pakistan.
Talking to Independent Urdu, he said: 'Our economy is not so good, it is scary. What would happen if we too reached the stage of Sri Lanka? '
Admitting that his nation is facing a more serious situation than the recent shortage of gas, electricity and food.
In Sri Lanka, the change of government in May this year did not lead to any improvement, and even today people there have to stand in long queues for basic necessities.
On the other hand, the Prime Minister of Pakistan Shahbaz Sharif The newly formed coalition government is working to improve the economic indicators, and as a result of these efforts, the prices of petroleum products have reached the highest level in the history of the country.
Dr. Khaqan Najeeb, a former adviser to the Federal Ministry of Finance, said in this regard: "Pakistan's biggest problem at the moment is inflation, which is causing the public concern and problems."
What Happened in Sri Lanka?
Economic Problems Despite this, Sri Lanka's economy was good until 2019, and it was largely dependent on the tourism industry.
Hundreds of thousands of tourists flock to Sri Lanka every year from across the country.
These events shook Sri Lanka's tourism industry, as foreigners, especially from the US and European countries, Too many tourists
The effects of the bombings on the Sri Lankan economy had not yet abated when the Code 19 epidemic spread around the world during 2020, and countries and Even between cities, travel restrictions have been enforced. This proved to be another blow to the economy.
During the year 2019, Mahinda Rajapaksa came to power in Sri Lanka with claims to reduce inflation and provide relief to the people.
They reduced taxes as soon as they came into government, and printed more currency notes due to reduction in government revenues and large budget deficits, which led to higher inflation.
In such a situation, Sri Lanka's foreign exchange earnings decreased. However, the government did not devalue the Sri Lankan rupee.
The decline in imports affected power generation to such an extent that the country faced several hours of power outages at that time, which severely affected business.
Mahinda Rajapaksa's second mistake was to ban imports of chemical fertilizers, among other things, in 2021, which severely affected Sri Lanka's rice and tea production, increased poverty in rural areas and
Inflation in Sri Lanka is currently around 20% and there is a shortage of food, fuel, medicine and other daily necessities. While prices are skyrocketing and Sri Lanka is seeking financial assistance from other countries including China, India, Japan and the United States.
A Comparative Review of the Economies of Pakistan and Sri Lanka
Many questions have also been raised about it.
Comparing the economies of the two South Asian countries will make it easier to predict the future of the Pakistani economy.
Economist Dr. Farrukh Saleem while talking to Independent Urdu said: 'Sri Lanka's economy was dependent on the tourism industry, while there has never been such an industry in Pakistan.
According to him: 'Pakistan largely meets its food needs from within the country, while Sri Lanka has to import food from abroad on which Foreign exchange costs. "
He added that common elements in both economies include current account deficit and volatile foreign debt.
Dr. Salman Shah said that Sri Lanka obtained foreign loans and spent them on dubious infrastructure projects, while in Pakistan the loans obtained from abroad were used for such power projects.
According to him: 'Both Pakistan and Sri Lanka have huge foreign loans.
Dr. Khaqan Najib said in this regard that the war between Russia and Ukraine also in Sri Lanka. Affected the tourism industry, while the biggest bill in Pakistan is the import of wheat and oil.
17 May 2022 This photo shows a queue for petrol at a fuel station in Colombo, the capital of Sri Lanka (AFP)
Dr. Khaqan Najeeb said: 'The size of the Pakistani economy is much larger than that of the Sri Lankan economy, and that is why the situation in Colombo deteriorated so fast.
He added: "Pakistan currently has 9 8.9 billion in foreign exchange reserves, while in Sri Lanka this volume has been reduced to 50 million.
According to him, Pakistan has friends like Saudi Arabia, Qatar, United Arab Emirates and China, who have always visited Islamabad in difficult times. Reach out to help. "Sri Lanka, on the other hand, has no friends who can get him out of this predicament."
According to Dr. Farrukh Saleem, there is no longer any possibility of the Pakistani economy going bankrupt, and this The main reason is that the current government has gone to the IMF.
He said: The IMF knocked on the door, while Sri Lanka went bankrupt to the international body. And this is the only reason that the threat of bankruptcy of the Pakistani economy has been averted. '
Dr. Salman Shah said that although there is a risk of bankruptcy, The IMF program can solve this problem.
'Tourism is important for Sri Lanka and IMF program for Pakistan.'
Former Advisor to the Federal Ministry of Finance Dr. Khaqan Najeeb in an interview with Independent Urdu said: 'The only solution to Pakistan's economic problems. Is an IMF program, which is highly anticipated. '
This section includes relevant reference points ( Related Nodes field)
He said: 'Pakistan's economy is safe for the next three months, but after that For this, the government will have to make strong and far-reaching decisions in the economic field. '
Will soon receive 2. 2.3 billion from China, which will increase its foreign exchange reserves to more than 11 11 billion. '
He added:' Saudi In case of doubling the amount held in Arab Pakistani banks, the situation will get better. '
He said that in all these cases Despite this, the agreement with the IMF is key to sustaining the Pakistani economy.
May 28, 2022 Pictured are government officials stationed in front of the protests in Colombo Can (AFP)
Sustainable Dr. Abid Qayyum Silhari, head of the Institute for Development Policy, writes in an article published in The News in April that there are lessons for Pakistan in Sri Lanka's economic woes, in which the economy is at stake for the greatest political popularity.
He further writes: 'All political parties involved in the race to form a government should keep in mind that in the presence of unfavorable external factors. None of them will be able to reduce energy prices, cut taxes and give rebates or artificially stabilize the rupee exchange rate, none of them will be able to deal with external obligations without the help of IMF. Will not be able to, and thus it is in everyone's interest to at least agree on an agenda for macroeconomic stability. '
Failing such a consensus, politicizing economic reform measures and opposing them for the sake of opposing the parties in power is a short-term populist. The policy will force the implementation of measures.
"Sri Lanka's experience tells us that such populist measures can lead to economic catastrophe."