The Israeli Embassy in Buenos Aires has expressed concern about the activities of two Iranian airlines in Latin America, praising
the seizure of a plane by Argentina last week
with an Iranian crew on board.
The Israeli embassy said in a statement that its country is concerned about the activities of "Mahan Air" and "Fars Air Qeshm" in Latin America.
The embassy added that the two companies were "involved in smuggling weapons and transporting people and equipment working for the Quds Force, which is subject to sanctions from the United States."
The United States accuses Mahan Air of establishing links with the Revolutionary Guards.
The statement of the Israeli embassy praised the "rapid, effective and resolute action of the Argentine security forces that were identified in real time." The potential threat" posed by the aircraft.
A plane belonging to Iran's Mahan Air
And last Sunday, Iranian state-run media reported that
the Argentine government seized a Boeing 747 owned by Mahan Airlines. Iranian Air and leased to a state-owned Venezuelan airline at Buenos Aires Airport. There was no official confirmation of the report, which was broadcast by the state TV and the semi-official Student News Agency.
For its part, the Argentine government confirmed the seizure of the Iranian Mahan Air plane in compliance with US sanctions, and also confirmed The arrest of 5 Iranian crew members of the impounded plane.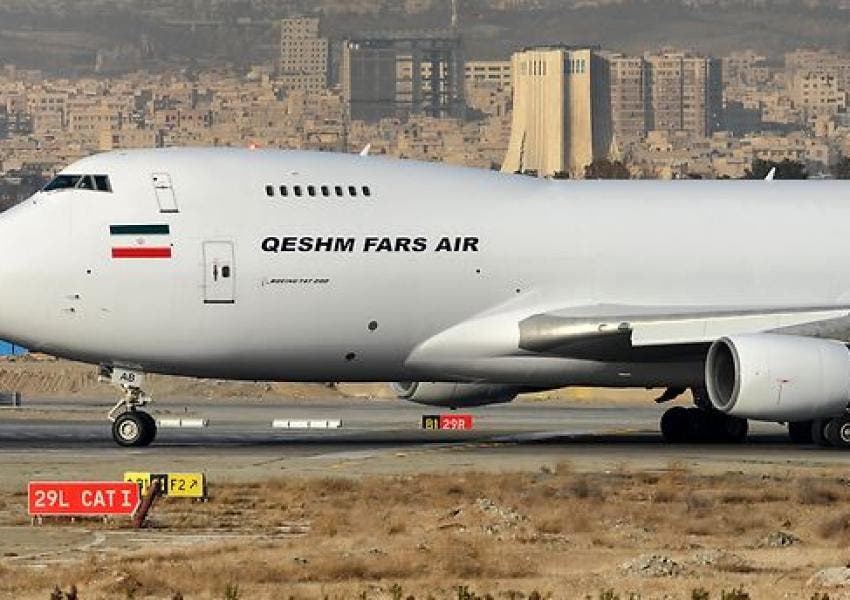 A plane belonging to Iran's Fars Air Qeshm Company
Simultaneously, some Iranian media reported that the plane, which was reported to have been detained in Argentina, last Sunday, has no connection with Mahan Air. And the media quoted the director of public relations for "Mahan" that the aircraft referred to is owned by Venezuela and has nothing to do with the company. She referred to Spanish media reports that quoted the Argentine Minister of Security as saying that a Boeing 747 belonging to Mahan Airlines and leased to Venezuela had been seized by order of the United States and the passports of the five Iranian crew members had been confiscated. INTERPOL issued arrest warrants for former Iranian leaders suspected of involvement in the 1994 attack on a Jewish center in Buenos Aires that killed 85 people and injured hundreds. , a bomb attack on the Israeli embassy in Argentina killed 29 people and wounded 200 others.
Argentina has the largest Jewish community in Latin America, and is home to immigrants from the Middle East, especially From Syria and Lebanon.