A Yemeni journalist who was considered one of the most prominent journalists specializing in the field of humanitarian journalism gave up his profession and turned into an ice seller in a street in the capital, Sana'a. This profession after the experience of many hard jobs he resorted to to make ends meet, after the conditions of the war threw him into unemployment due to the interruption of salaries and the high cost of living, and he sought refuge on the sidewalk in search of a source of income from which he subsists.
(Faisal is sitting in a street in the capital, Sana'a, while sadness and disappointment invade his features, and behind him appears a "fiberglass" refrigerator to keep snow, and he raises a distress call to human rights and humanitarian organizations due to the abuse and harassment of him until this profession, and his having to pay sums of money under duress to members of the Houthi municipality to avoid problems.)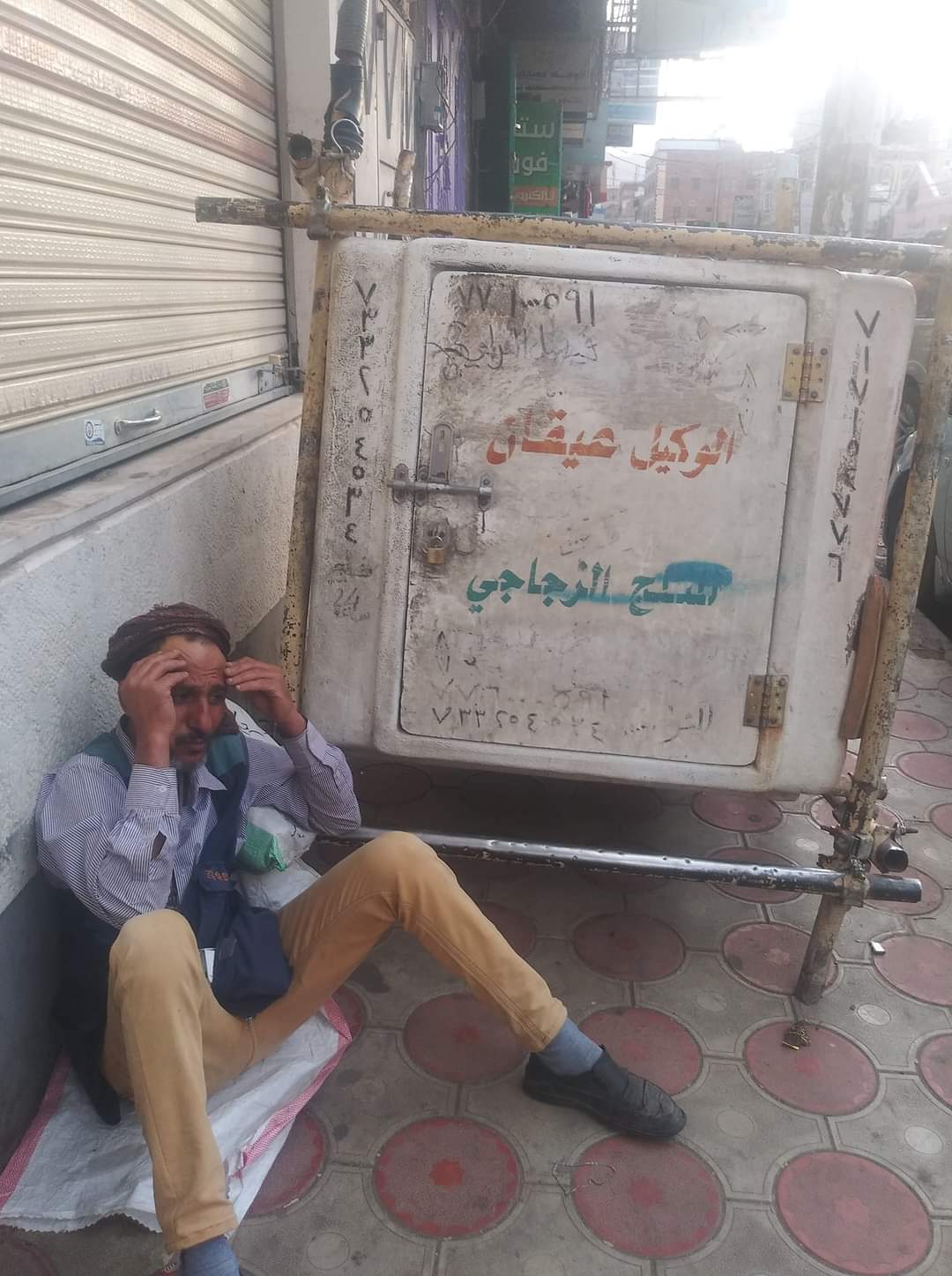 Faisal Al-Sarraj
Activists close to Faisal said that last Saturday, he had to move his refrigerator to another place, due to threats from the municipality members affiliated with the Houthi group. , confiscating the refrigerator.
Two weeks ago, members of the municipality took him to prison and forced him to Writing a pledge either to pay the sum of one thousand riyals per day or to leave the street. Because he remained in the municipal prison from noon until seven in the evening, the ice cubes melted and the size of his loss increased.
In the previous two years, Faisal had been assaulted and imprisoned several times by municipality members for refusing to pay sums Financial papers without official bonds, and the same thing is happening now, and he previously appealed to the relevant authorities in Sana'a, and the harassment stopped, and then the harassment returned later in a more severe way.
Journalist Faisal confirmed that he is subjected to severe harassment in His profession as an ice seller, he was booked twice within a month and threatened to break his equipment by the municipality, and he was also subjected to several attacks because of his refusal to pay money without official municipal bonds, and he is now in debt and in an unenviable position. Media professionals and colleagues expressed solidarity with Faisal, and said that the worsening deteriorating living conditions prompted many to seek livelihood on the streets and sidewalks to secure the daily livelihood for their families, but the majority of sellers and stall owners pay a heavy price for that, and suffer from harassment by municipal campaigns that blackmail them into paying money without official bonds. In return for allowing them to practice selling in places of public gatherings.
Journalists and media professionals are exposed They are in Yemen for many violations, including threats, exclusion or kidnapping, and they live in a dangerous environment after their salaries were cut off and many newspapers, websites, radios and channels were closed, which prompted many to flee to liberated cities, while others were subjected to persecution, forced arrests, and harassment targeting their personal safety.